Stremio – Uma outra opção Open Source para Netflix.
Netflix, Popcorn, Youtube, tudo em um só lugar: Stremio!
O que é Stremio?
O Stremio é uma plataforma para agregação de conteúdo de vídeo.  E funciona como uma central multimídia filmes, séries, programas de TV, TV ao vivo ou canais da web como YouTube e Twitch.tv, funciona também em outras mídias como SmartTv's, tablet's, set top box, Celular (Android e iOS). Assim como a Netflix, PopCorn e outros aplicativos que trabalham através do protocolo P2P (Peer to Peer),o Stremio também utiliza esse protocolo. Com isso, faz com que não baixem conteúdos para seu hardware, trabalhando através da plataforma streaming.


Ele atualmente atende apenas à arquitetura de 64 bits e tem a versão Stremio 4.0 (Beta) e Stremio 3.6.5 (stable). Essa aplicação é multiplataforma, sendo compatível com diversas distros, além disso, através de add-ons, você também pode conectar a sua assinatura e acessar o conteúdo do Netflix, Hulu, Filmon, Guidebox, Vodo, StreamFeed e até do Popcorn Time.
Acesse o site:
Adicionando opções no Stremio.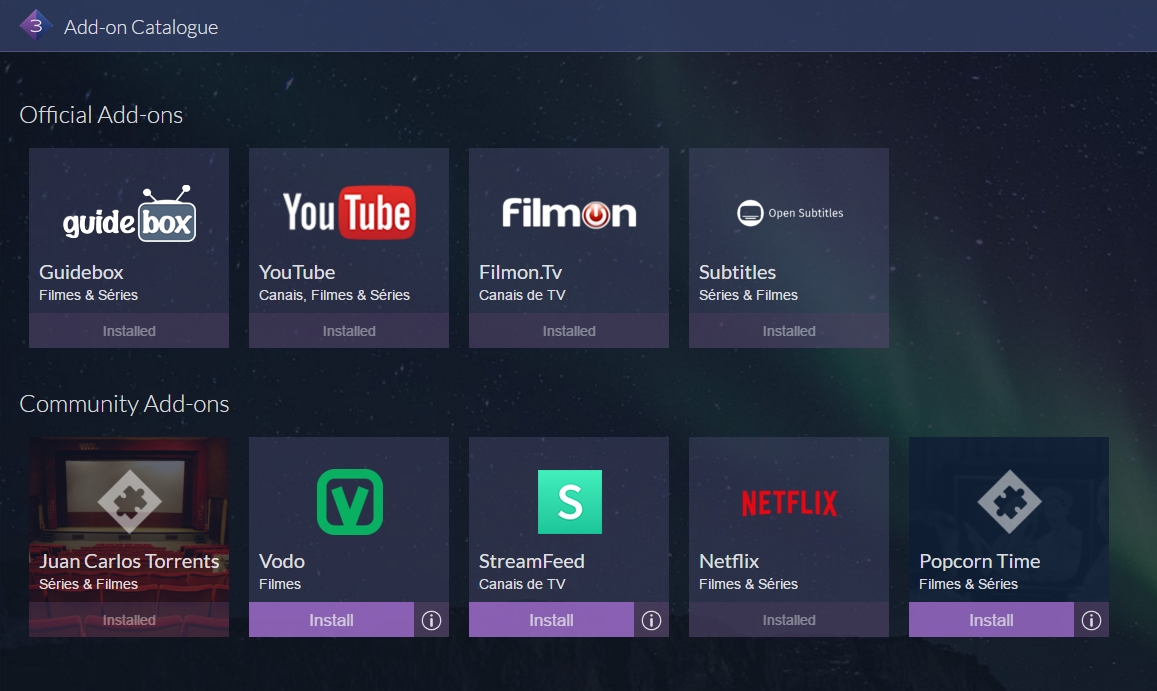 Como já supracitado, com os add-ons é possível inserir mais opções ao Stremio e melhor organizar seus vídeos.
Além dos add-ons, o Stremio ainda traz a opção de utilizar o VLC Player, caso não goste ou queira utilizar o player embutido no próprio software. Só precisa acessar o menu de Configurações e marcando a caixa de seleção "Play with VLC". É possível também encontra uma função que permite concatenar um episódio após o outro, de sua série favorita, por exemplo. Agora não serão só aqueles amigos que farão maratonas de séries (na netflix), com Stremio, isso agora é possível.
Existe um algoritmo de busca inteligente que, (após a sua permissão), busca seus filmes e séries favoritos no Facebook, baseados em seus cliques, com isso, ele visa organizar melhor aquilo que você provavelmente vai querer assistir. O conteúdo existente em seu computador também pode ser lido pelo programa e disponibilizado na janela do Stremio.
Como se não fosse o suficiente todas as funções dessa excelente ferramenta, o Stremio traz um calendário em seu software que utiliza as informações de suas redes sociais para mostrar de maneira organizada e clara quando estarão disponíveis os novos episódios dos seus seriados favoritos em uma interface bonita, simples, intuitiva e bem leve.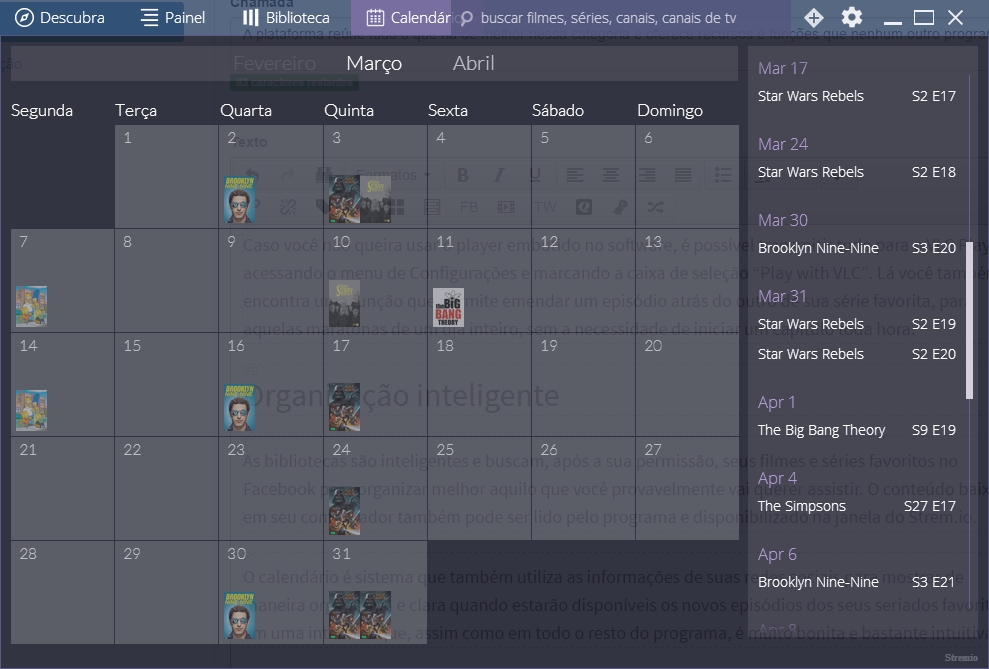 As sutis diferenças entre Stremio x Kodi x Plex
O Stremio é uma inspiração tanto do Kodi quanto do Plex, porém, vem de um objetivo um tanto diferente, o Stremio está direcionada ao entretenimento de video, facilitando sua usabilidade, e vem se esforçando para tornar essa sua principal solução. Já o Kodi e o Plex são mais personalizáveis e rico em recursos.
Configuração de Hardware
O stremio é compatível com  qualquer configuração de hardware. Apesar de ser um software, todo o seu serviço funciona através da nuvem (com a plataforma streaming).
Porém, uma configuração mínima seria:
2 GB de RAM;
320 GB HDD;
64 MB vídeo;
Placa de Som (on-board).
O Stremio não fornece nenhum conteúdo por si, todo conteúdo gerado é através do sistema de complementos,
Caso você tenha um pedido de conteúdo, você pode usar o botão "Relatório" no Player, que enviará um e-mail ao autor do complemento que você está usando no momento.
Para Baixar essa excelente ferramenta clique abaixo:
O que você achou da matéria? Deixa seu comentário! Compartilhe em suas redes sociais!! Sua opinião é muito importante para nossa equipe!